2018 is here and I for one cannot think of a better way than to kick of the year than by writing about the King of Hollywood (click banner for host site). I can already tell that 2018 is gonna be a great year- especially for classic Hollywood fans like us because of so many awesome events (*cough*cough*- William Holden Centenary) Anyways back to the King!
Clark Gable is someone who in my view is not overrated- I think he's a wonderful and humble man who never thought of himself as a star. He was so down to earth and someone who seemed like he would be a great friend to chat with. And of course I can't mention the man without his great lady, Carole Lombard- to me they are the definition of true love!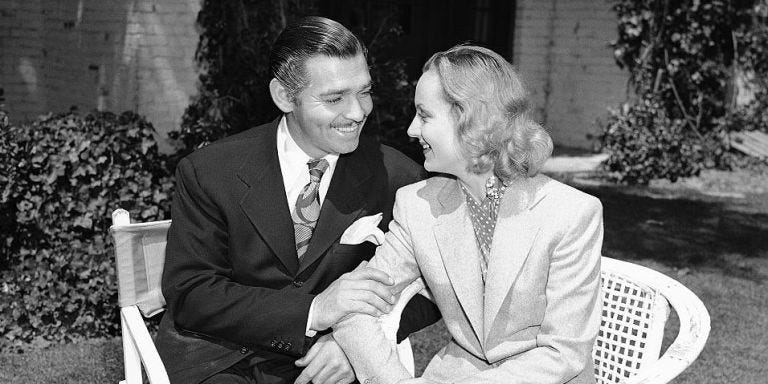 But getting back to the friend label- Clark Gable is a man I would want as my best friend- and that's just what Jean Harlow had in him- a great friend and brother.
Their first real movie Clark and Jean were in, Red Dust (1932) (they made The Secret Six-1931 but had no scenes together) first came to my attention through the OTHER movie Gable was in, Mogambo (1953) in which as most of us know; Gable played the same part (different character name yes- but same part). I saw Mogambo first thanks to Grace Kelly and I really didn't understand why people were calling referring to Gable as "past his prime". I thought he looked good with a bit of graying temples and looked distinguished. It wasn't until a few years later when I finally saw Red Dust- and watching it didn't alter my opinion- Gable looked good younger, in black and white, and later when his hair was black and white- I think we can appreciate Gable at both stages of his life- he's just that swell!
Red Dust tells the tale of a love triangle- with plantation manager Clark, prostitute (!?) Jean, and married woman Mary Astor – set on a rubber plantation in French Indochina. The details of the story aren't really important but let's be frank– or rather- fred– its Clark and Jean playing opposite each other!
While I love Mogambo and Grace Kelly and think she's the greatest- I do believe I have to give Jean Harlow the best Gable co-star award. The chemistry she brings to her scenes with Gable in Red Dust is electric- you are just waiting for them to clap back at each other with that sharp and witty pre code dialogue. It's peculiar to think but Clark and Jean are the type of stars you root for to be together on screen, but off screen you just love their friendship. You can certainly get a glimpse of their friendship in any movie they did together- but I declare its Red Dust in where it's the most evident because it is a pre-code- they were more free to be- such as with their body language- the scene in which Clark and Jean sit on the bed together!!!
And let's not forget that rain barrel scene– which of course Jean absolutely nailed despite dealing with the shocking death of husband Paul Bern. To me that scene personifies what a professional she was. Behind the scenes I have no doubt that Clark was the rock for Jean during this incident- and then their friendship just took off from there.
Clark was the only one not to refer to Jean as "the baby" instead opting to call her "sis". I think she was his best leading lady and they would have made even more films beyond Saratoga 1937 had she not died.
Personally, I still need to watch China Seas (1935) but I think Red Dust will forever remain the best pairing between the two. I for one would love to have a friendship like that of Clark and Jean's- it's really their type of friendship that lacks in today's modern world and I say we all can learn by example from it.