When it comes to Natalie Wood, I really believe she's the Six Degrees actress of her day. She worked with so many famous names, that sometimes we as fans even forget the extent. I naturally adore Natalie as much as any other classic movie fan, but will admit it took me a couple years to fully appreciate her as an actress and performer- and I'm still discovering her range. I think the reason being is her films are not as instantly likable compared to others- but the good thing about that is it challenges you to view her films differently and really dig deep for those elements that hook you.
One of her films that I instantly took liking to, however, was Love with the Proper Stranger (1963). I honestly didn't even know this film existed; I saw it on her filmography and sort of passed it off as not anything special. I didn't think much of it at all until I read about the film in depth in the TCM/Manoah Bowman/Natasha Gregson Wagner collaborated coffee table book Natalie Wood: Reflections of a Legendary Life (a birthday gift from my parents in 2017) .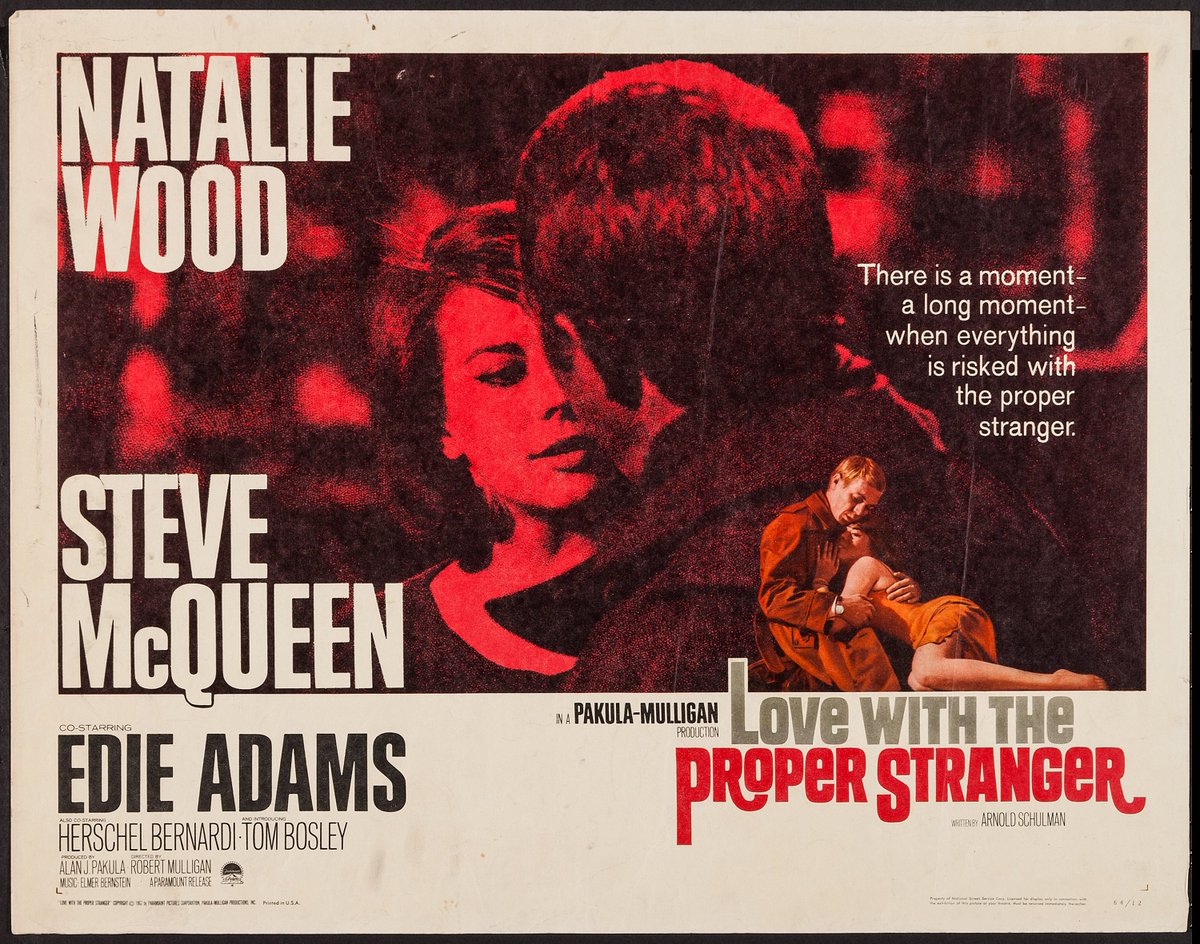 Co-starring with Natalie is Mr. King of Cool, Steve McQueen, in his early career and in one of his first leading man roles. McQueen plays musician Rocky Papasano and Natalie plays Macy's shop girl Angie Rossini. The film starts off by Angie tracking down Rocky by telling him she's pregnant but all she wants is a name of a doctor- no strings attached. They don't think they will see much of each other, but due to the expense of abortion, they end up having raise money get it. The pair bond and soon develops a mutual admiration for each other- and of course, neither admits it.
Natalie in this role is just perfect, and as mentioned in the Natalie: Reflections book, this was the first time in her career she played a real adult woman who is free to make her own choices. If Rebel Without a Cause was her transition to teen/ young adult roles, this film was her move to full on adult woman roles. The character of Angie is making decisions about family, moving away from home, and whether or not to pursue romantic relationships. She is dealing with a dysfunctional family, being made fun of by her brothers (Herschel Bernardi and Harvey Lembeck) and pressured to marry a cook (Tom Bosely); and even has a bit of a romantic rival for McQueen's affections played by Edie Adams. Her problems are all contemporary and relatable- and Natalie does a splendid job playing the role.
The most ground breaking scene of the film has to be the abortion scene, or should I say SPOILER almost abortion scene SPOILER. According to Natalie, this scene was entirely improvised by her and Steve, as all it said in the script was, "Get hysterical". It's absolutely emotional, and I would even argue it's better than her Splendor in the Grass bathtub scene- I really can't find words to describe it, all I can say is its one of those, "watch it to feel it scenes." It truly rides the line of pro-choice or pro-life- without much being said at all and is immensely ahead of its time.
The other part I really admire about this movie is the chemistry between Natalie and Steve McQueen. Throughout the entire film, McQueen is his coy but alluring self- and you can slowly see Natalie falling for him against her will; she even tries to be aloof and standoffish to put him off, but that only attracts him more! The scene when they have dinner together towards the end is so charming and the dialogue makes you smile. If Steve McQueen showed up at your door and said "Man you look wild…. You look like a woman", wouldn't that make you swoon? (and note- I'm saying this as a casual fan of McQueen!)
Overall, I declare this film should make us all want the "bells and the banjos" in a romance; and say this film should be viewed when it is on, as TCM rarely airs it. It is available to own on DVD or Blu-ray thanks to Kino Lorber Studio Classics, and I'm really thankful as they are the studio who rescued this movie and put it on disc format for the first time. Don't miss out on this little hidden gem of a picture- click here to buy it from Kino Lorber, here to buy it from Amazon  or HERE to buy from TCM. For Natalie Wood: Reflections of  A Legendary Life (Great book!! It's one of the best out there!) AMAZON Barnes and Noble or TCMshop
And to Miss Natalie Wood- Happiest of Birthdays in Heaven! The world still misses you, and generations of new fans have come to admire you-myself included! XOXO
NATALIE WOOD 80th Birthday Blogathon
SOURCES
Images- Kino Lorber Twitter, TCM , fanpop , and dvdbeaver
Natalie Wood: Reflections of  a Legendary life By Manoah Bowman, and Natasha Gregson Wagner