This year for the Grace Kelly Blogathon Day 2 I made the daunting decision to write up on Alfred Hitchcock's Rear Window (1954)– which is arguably not only The Master's best film, but also Grace's best role.
But before I get into some of the technicalities, I will say that instead of giving a boring bloated analysis of it- Id like to focus on some of the stand out pieces that I feel make the picture brilliant
Grace plays Lisa Carol Fremont in this role- a model and independent woman. Her boyfriend is a photographer LB "Jeff" Jefferies (maybe that's how they met!) played by Jimmy Stewart. Jeff breaks his leg and is holed up in his apartment with nothing to do but stare out and "spy" on his neighbors. Its all people watching until one night he suspects his neighbor Lars Thorwald (Raymond Burr) murders his wife. Jeff, Lisa, along with Jeff's nurse Stella (Thelma Ritter), then investigate the truth.
One element that I feel goes overlooked is the scene in which Lisa turns on the lights and introduces herself to the audience. Everyone focuses on her kiss entrance scene- but the scene that follows is just as brilliant.
Lisa goes over and turns on three lights- and with each light says a part of her name. But note the framing- the first light, Lisa- the camera is a close up; the second light, Carol- its a medium shot- and finally the third light, Fremont, the camera zooms out to a long shot in which we get to see her gorgeous black and white frock.
Its pieces like this in which I feel Hitchcock's tiniest details of framing and dialogue go great with each other. And Grace- she's the only actress who could make an entrance as simple as this super sophisticated and elegant.
Another element in this movie that I feel may be under rated is Hitchcock's use of sound. Except for the opening credits, all sound in this film is diegetic sound. Its an interesting choice for Hitch, as usually his soundtrack scores are a key focus of his films. Take a look at the intro to the film (don't worry no spoilers)
I'm not a fan of Jazz- but there is something so infectious about this piece of music that sets the scene for the film. You automatically thing New York, the 50s, glamour, but business of the city. Also note how in the title sequence there are shades opening almost as if the audience is the voyeur for this picture.
Next- lets talk about the under rated and often taken for granted set of this movie- its a whole neighborhood in a sound stage- and that's something you rarely see anymore (as its too expensive!). This is a set with no green screen, or digital apartments- they are really there and they are built. From what I know- they used two sound stages and the apartments were the street level while places like the courtyard were actually the basement.
All apartments were made livable, and Hitchcock would give direction through an earpiece that all the actors had. Watch the video for the opening scene of the neighborhood and courtyard- just mind blowing on how that was all created!!
Finally- Lets discuss Grace Kelly in this movie!! This is her ultimate glamour role, her ultimate Hitchcock role and her most well known role. I feel only she could be Lisa Carol Fremont and if someone else like Vera Miles or Kim Novak would have played the role- this picture would not have been as believable or memorable. Lisa Fremont is so proactive, more than just the "girlfriend"and sidekick- as she's the one doing the action scenes that Jeff can't. I believe Hitch spent the rest of his career trying to find another actress to create a role such as this- but naturally and utterly failed, finding good, but somewhat sub-parr actresses for big roles in his pictures. Its so easy to take for granted how phenomenal Grace is in this role!!!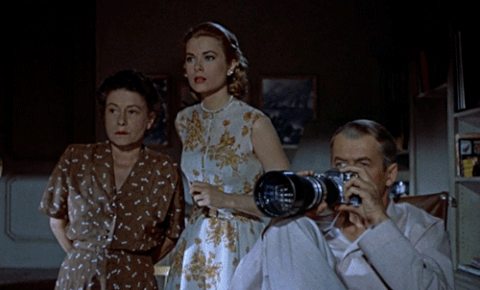 In Sept 2017 (the day of Grace's death) I had the pleasure of viewing Rear Window on the big screen and I can say that it absolutely changes your experience. Seeing every moment play out on the big screen makes it all more thrilling and dazzling.
Click here to read a post I did concerning the fashions of Rear Window.
To Grace I will say that on this happiest day her birthday-I hope we can all pay her a great tribute, and I hope she is thrilled and perhaps touched that there are so many young people who still adore her and her movies!