When it comes to Barbara Stanwyck, I came to like her by "accident" in the sense I never set out to say, "I'm gonna see her films!" I came to discover her though other actors she worked with and then kind of sat back and thought, "Wow! Barbara Stanwyck really is amazing" or, "I came for this actor but hey, Barbara Stanwyck caught my eye too."
Remember the Night (1940) was the very second Barbara Stanwyck picture I saw, (the first being Double Indemnity (1944)), and honestly, I wanted to watch it because of Fred MacMurray. With that being said, the exact scenario I just described above then happened when I watched this film- Barbara Stanwyck with her talent and effortless performance caught my eye.
Recently, I was discussing Remember the Night with one of my high school teachers I keep in touch with and it made me come to the conclusion this film is actually a strange blending of genres that works really well. Its part Christmas classic, screwball, but also part melodrama, and dare I say even a little bit dark.
Obviously this movie is very Christmas-y, as the whole movie is kick started by it. The movie starts off with Lee Leander (Stany) stealing a bracelet, cutting to a trial with Jack Sargent (Fred) as the prosecutor. However, due to the Christmas season, the trial is postponed. When Jack learns Lee is also a Hoosier, he offers to drop her off at her Mother's home on the way to his family.
The screwball part comes into play when they are driving and get lost. There's also a cute cow milking scene, but the screwball scene soon comes to an end when the pair actually arrive at her Mother's house. Upon arriving, they learn her Mother has remarried and has cut off her daughter, never wanting to see her again.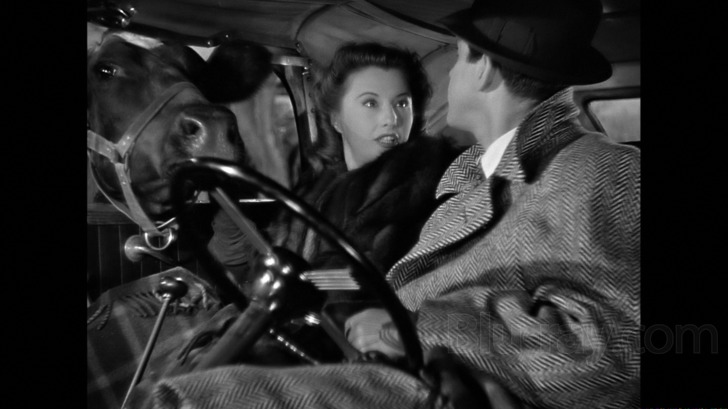 Heartbroken, Lee is then taken home by Jack and spends Christmas with his family (with Beulah Bondi playing his Mom and Elizabeth Patterson as his Aunt). From this point on the film mainly is a melodrama. Christmas plays out, as well as the aftermath of Lee and Jack falling in love. It all leads up to a somewhat unsatisfying ending; that despite its loose ends still makes us watch this movie over and over again. (I don't want to spoil this ending!! It's something the viewer should watch for themselves)
As I brought up, Miss Stanwyck is just remarkable in this film. I almost take her performance for granted and especially when she has Mr. Fred MacMurray as her leading man; there's just something that makes them an extremely appealing screen couple. Its unexpected, the two of them together as a couple, but it just works. I don't think Fred was ever more believable as a man falling in love than when he was with Barbara Stanwyck.
Wrapping up, I will leave you with the trailer- and going back to my original assessment, even it makes you wonder just what type of film they were trying to market.
THIS ENTRY WAS WRITTEN FOR THE REMEMBERING BARBARA STANWYCK BLOGATHON hosted by two fellow awesome bloggers Maddy Loves her Classic Films and In the Good Old Days of Classic Hollywood