Happy March everyone! I'm back today for an entry for my two fellow awesome bloggers that I absolutely positively adore, Ginnie at the Wonderful World of Cinema and Samantha of Musings of A Classic Film Addict, as they are hosting a blogathon in honor of another fabulous lady (like themselves)- Jean Harlow.
Jean Harlow was the original blonde bombshell who had a brief spell in Hollywood, a tragic end, yet had an enormous impact on movies and was certainly a Queen of the Screen in the 1930s.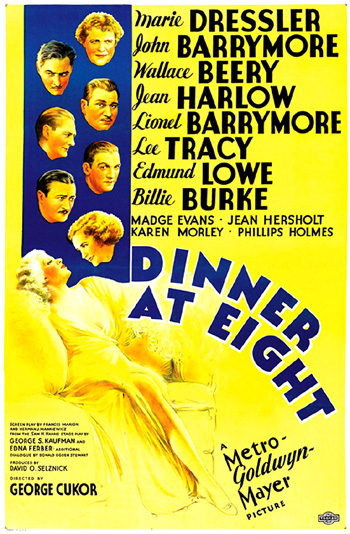 In Hollywood, its sometimes hard to stand out, but Jean always made her presence known- and the best part of was she didn't even have to draw extra attention to herself- she was was herself and people noticed her. And it's exactly that quality about her that made her stand out in George Cukor's 1933 comedy of manners pre-code flick Dinner at Eight.
Dinner at Eight is tricky to categorize and even write about. Its a comedy of manners, contains an "all star" cast (Marie Dressler, John Barrymore AND Lionel Barrymore, Wallace Beery, Lee Tracy, Edmund Lowe, Billie Burke!) is episodic in plot structure, and is pre-code in its themes (they vividly talk about topics such as suicide, infidelity, alcoholism, financial destitute, and more).
The flick is often seen as a "twin" to 1932's Grand Hotel and a precursor to all of the comedies of the high society rich we all know and love such as: My Man Godfrey (1936), Merrily We Live (1938) , Holiday (1938), and The Philadelphia Story (1940) to name a few. While this movie is all about the preparation for the dinner and we never see the actual event, we do however see the more interesting conflicts of what the guests are dealing with before they put on their facade being "rich and stuffy" at dinner.
But because this is Jean Harlow's blogathon, I thought it would be more fun to write why Jean makes herself the scene stealer in a picture filled with stars!
1- She makes the most of her role: Jean plays the part of Kitty Packard (wife to Wallace Beery's Dan). In this movie there is a cast of 25 (according to wikipedia!) with 8 actors getting main billing above the title. Jean is also acting amongst some of the most famous veteran players of her day: John and Linonel Barrymore! Silent star Marie Dressler! Beloved stage star Billie Burke! But in it all, here we are talking about Jean's legacy in the film. Many today cite this was not only her finest but most complex performance: she just wasn't Clark Gable's girl to win or the pretty blonde girl at the party- she had a real interesting layers to her character that made you want to keep your eyes on her in the scenes she was in.
2- She has a gorgeous wardrobe: This movie in general is just so pretty to look at! Everything is art-deco and beautiful, including Jean's wardrobe! Don't you just want to borrow her outfits!?
3- Jean gets the snappy lines: This may be the reason we remember Jean so instantly when we discuss this movie as Jean has some of the best dialogue lines in the film. Here is just a sample of her best ones!
Dan: You mean to tell me you've been putting it over on me with some other man? 
Kitty: Yes, and what are ya gonna do about it, ya big gasbag?


Dan: Remember what I told you last week? 
Kitty: I don't remember what you told me a minute ago.
and finally this last exchange which happens to be the final scene in the movie: I'm leaving it as a video so you can watch if you choose
Gotta love Jean!!! Check out the other entries here