When it comes to Joan Crawford, I may not be a major fan of hers, but do believe she had a major staying power in Hollywood that few others processed. I admire her determination and have warmed up to some of her movies, with me being able to appreciate her as an actress, so I didn't pass up the opportunity to participate in Pale Writer and Poppity Talks Classic films Joan Crawford Queen of the Screen blogathon!
Unlike most classic Hollywood fans, I first learned of Strait Jacket though the FX Feud 2017 miniseries. I saw the side by side comparison on YouTube shortly after and really applauded the way they were able to replicate the trailer so accurately. However, that wasn't enough to get me to watch the movie.
Fast forward two years later and I see it playing on TCM, so I decided to DVR it and give it a shot. Initially, I thought it would be just something super campy, embarrassing, and laughable- but I was gladly proven wrong, as this movie really blew me away with its suspense and acting.
Strait Jacket is basically the movie Joan did in place of Hush, Hush Sweet Charlotte (after she was replaced by Olivia de Hallivand) and I enjoyed it more than Charlotte. Joan stars as Lucy, a woman who after axe-murdering her husband and his lover, spends 20 years in a mental asylum. Lucy's daughter Carol (Diane Baker) witnessed the murder, and she then is sent to live with Lucy's brother, Bill and his wife, Emily (Leif Erikson and Rochelle Hudson).
Directed by William Castle, this flick picks up when Lucy is released from the hospital and reunited with Carol. Carol is happy to have her Mom back again, and treats to her to a new dress, bracelets, and a wig- to make her feel 20 years younger. This all backfires however, when Lucy starts flirting with Carol's fiancé, Michael Fields (John Anthony Hayes).
It gets even more twisted when a series of axe-murders start occurring again, and Bill and Carol suspect Lucy should be re-admitted to the mental asylum.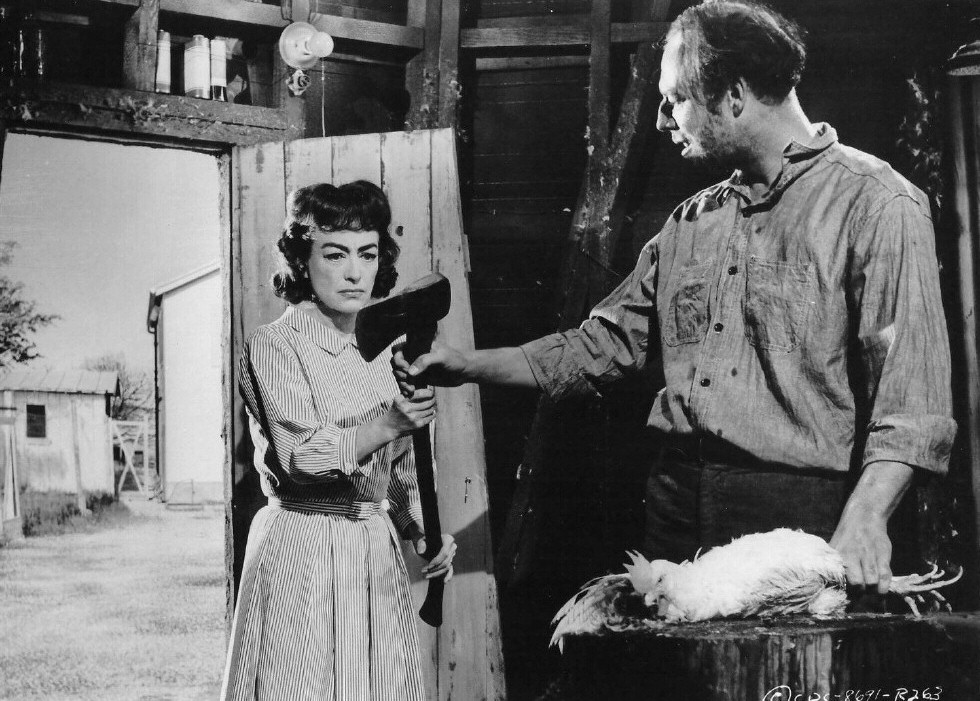 The actual twist is somewhat predictable, yet when it's revealed, it's still a lot to process with the whole backstory. I really can't describe anymore plot without spoiling everything- but I will admit I was shocked by the final axe-murder victim, as well as the climactic reveal sequence.  
Overall, this movie is what I described earlier- campy and laughable- but it has solid performances that allows it to be likable. Joan is over the top – but is so brilliant at being so, that you end up being impressed by it. The axe murders by today's standards are nothing scary- but are impressive, from the sound effect (chopping of a watermelon) to the visuals. And of course what makes this movie really work and stand out from other B-pictures of the era has to be the right amount of camp- from the opening title visuals to the scene with Joan lighting her cigarette on the turntable- it's all in the name of entertainment.
And of course– I have to mention because this is Joan Crawford- Pepsi even has a cameo appearance. There is even blink and miss it scene with Mitchell Cox, the then-VP of Pepsi playing Lucy's doctor.   
CLICK HERE to buy Strait Jacket on Blu Ray from Amazon!