Hey everyone I am so glad to be doing my first blogathon of the year (and decade) and there is no better way to start a new decade than to re-do a review of one of my favorite films 1955's Mister Roberts. Be sure to check out the Out to the Sea Blogathon, and thanks to Moon in Gemini for Hosting!
When I first reviewed Mister Roberts I was so fresh to film blogging and while its, well OK, I wanted to take this opportunity and re-do it.
Mister Roberts is based of the Broadway play of the same name in which the ship Reluctant (or The Bucket) is stuck on the Pacific Ocean during the end of World War II. The members on board are getting bored, but are never out of eye of the tight supervision of the Captain. With its colorful crew of clashing personalities, hilarious hi-jinks inevitably occurs.
Mister Roberts has a fascinating behind the scenes story: 2 (technically 3, with Joshua Logan un-credited) directors, a fallout and end of one of the most successful actor-director collaborations, a film that has viewers wondering who directed what; and yet against all odds- it's a film that is so well done. And I mean everything from the stage to screen adaption, to the wonderful performances, right down to the humorous tone is just so delightful to watch.
The most defying element about this film is the success it had when John Ford stepped down as director and Mervyn Leroy took over. I declare we will never know the exact reason why Ford was replaced: there are reports of an emergency gallbladder surgery, and the punching Henry Fonda incident (maybe its both). If it were any other film, Ford's departure would make it a failure, but what saved Mister Robets from failing was A- The source material and B- the cast- which just proved how crucial their casting was.
The cast is perhaps the best thing about this film: Henry Fonda, Jack Lemmon, William Powell, and James Cagney (not to mention Ford stock regulars Ward Bond and Harey Carey Jr) are all just so electrifyingly perfect. They gel in a way that one might not expect, as all of these men were used to being the leading man in their pictures. Their camaraderie on set as evidenced by this picture really translated to their roles and you really believe these guys are all stuck on a ship together.
I for one love the scene in which Doc (Powell) helps Pulver (Lemmon) make homemade scotch to impress the nurses- who else would be able to do that other than Mr. Nick Charles himself!!! I smile about it every time I watch it, and it's a nice little callback to Powell's most famous role. Moreover, who could forget Patrick Wayne's small but memorable role of young recruit Booksy- I admit the first time I watched I didn't realize it was Patrick, he was so young; this was even before The Searchers and I failed recognize him!!!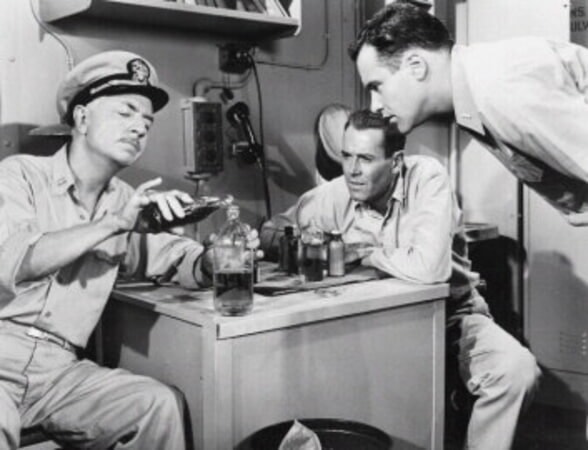 And then there is the plant gag: that stupid but beloved plant just gives the movie an unexpected funny edge. Every time that plant gets tossed, I just can't help but laugh, and watching Cagney's reaction is equally as amusing. Of course, I can't forget Mr Henry Fonda: no one but him could have played this role, and I cant believe he almost didn't reprise this role. I don't even wanna think about him being replaced with Marlon Brando or William Holden (Still love ya Bill!). Fonda holds the film together with Mister Roberts being the go to guy for all the characters. The ending scene with the crew gathered round to read his letter gets me emotional no matter how many times I've seen it.
Moreover, what's also great about this film is that it's a 'war movie' for people who don't like war movies. Not one battle scene or dipiction of gruesome imagery exists in this film, and I wish more movies could be done in this manner. It's all about context and atmosphere of war and not necessarily what you see, but what you feel.
Overall, on a personal level, I cant get enough of this film. I don't care is it's not "John Ford" enough for a John Ford film: it's just a darn good movie that deserves multiple viewings. The cast is perfect and the humor is impeccably on point. There isn't another film quite like it out there and I am glad that in a sea of movies, it stands out in the crowd.