Key largo [1948] is best known for being the fourth and final pairing of legendary couple Humphrey Bogart and Lauren Bacall. It's based off the play of the same name, telling a story of a hurricane trapping a dysfunctional group of people in a hotel. It may seem very archetypal by today's standards, but it's the group of actors playing the characters that gives way for repeated viewings. Co-starring Edward G. Robinson, Lionel Barrymore and Claire Trevor in an Oscar winning role, this film does have something for everyone- and provides a thrilling study in supporting characters.
The first time I ever saw Key Largo, I didn't care for it. I found it to be slightly over rated, and I didn't particularly care for the characters. The one scene I found to be disjointed was when Edward G. Robinson's Johnny Rocco kisses Nora Temple (Bacall), and that one specific scene set me on a path of believing this film is not for me.
However, after chatting about this film with a former teacher- turned friend of mine (our families are good friends), I realized this film actually isn't all that bad- it's just a very, very Bogart style film. When I say Bogart film, I mean it's the type of film that you'd expect Bogart to be in. Everything about this film is tailored to being in Bogart's taste: director John Huston, wife Lauren Bacall, co-star Edward G. Robinson, even the presence of his beloved boat and his love for the sea.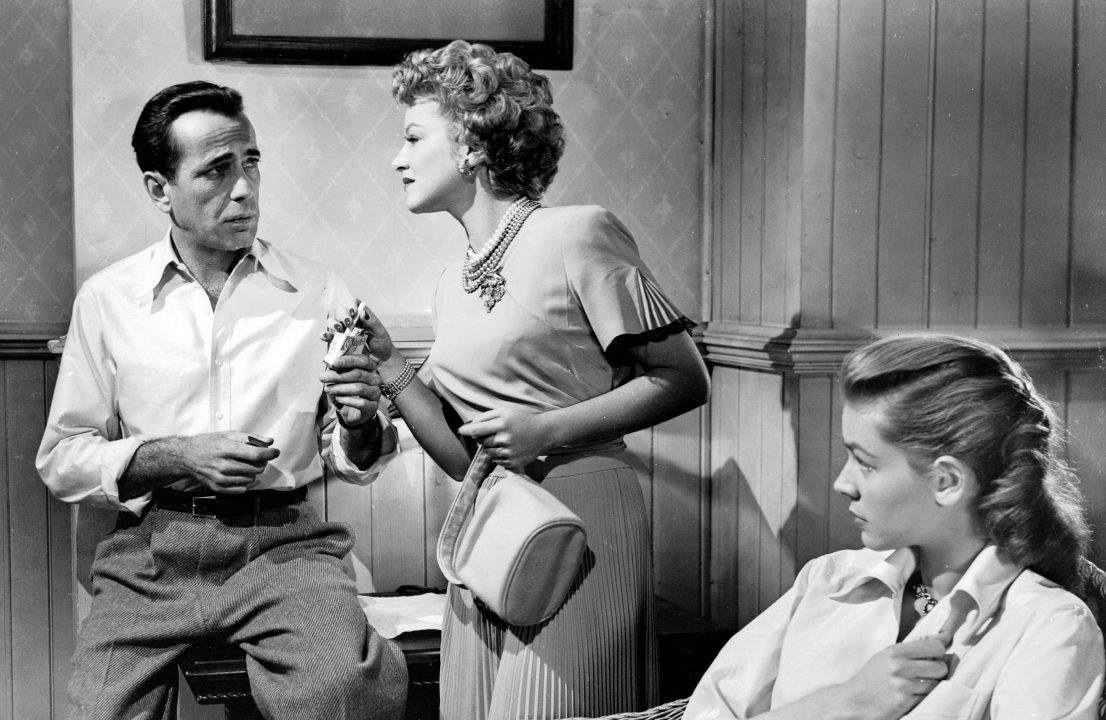 And then we have scene stealer Claire Trevor, playing Gaye Dawn, whose performance of Moanin' Low is in part what makes this film unforgettable. Trevor's character is the most complex of them all, and I can see how she reminded audiences that she could still be a commanding presence on screen. No longer the leading lady, but 100% capturing your attention: she does exactly that and more in this movie.
You can't help but cringe a little when you hear Gaye Dawn sing Moanin' Low, but that's exactly what you should be doing.  Its one of those so bad it's good performances, and one you certainly cant look away from. Many believe that it was that scene alone  which secured Trevor's Oscar win; and while I'm not sure about that, it's absolutely iconic (and NOT lip synced).
Key Largo is one of of those movies where the supporting characters take over from the two leads. Yes- you know Bogie and Bacall will end up together, you of course root for them two. However, you wonder more about the side characters- What are Johnny Rocco's real motives, what makes Gaye stay around him even though shes considered his "ex-moll", and even Nora's connection with father-in-law James is puzzling.
Overall, I myself am still coming to terms with how I receive Key Largo. It's still not an all time favorite of mine, but I'm coming around to seeing the brilliance of it: and Claire Trevor is certainly a major part of that!
BE sure to check out other entries for the Claire Trevor Blogathon! Thanks to the lovely Ginnie for hosting!