The Australian tv show, A Place to Call Home, has one of the most fascinating stories of how I personally came to watch it. I came across it in 2015, when looking for more info on Miss Fisher's Murder Mysteries season 3. A Place to Call Home pictures kept popping up and I saw an image of a cast with 1950s clothing, so I was curious about it. Upon Googling the show I had learned it ran in Australia for 2 years, got cancelled, but miraculously was uncancelled. I searched around for a trailer and watched the American one made by Acorn TV. It was in that very moment after watching the 1 minute and 50 second trailer, I knew the show was going to be a real winner. I just had an instinctive feeling about it, and bought season 1 DVD as basically a blind buy, taking a nearly $35 gamble on it.
As I waited for the DVD to arrive, I didn't have any doubts, which is unlike me, rather I was just so excited. I also had the benefit of knowing there wasn't going to be an unresolved cliffhanger, as the show was locked in until at least season 4. I binged 1 and 2, watching 3 and beyond as it was airing.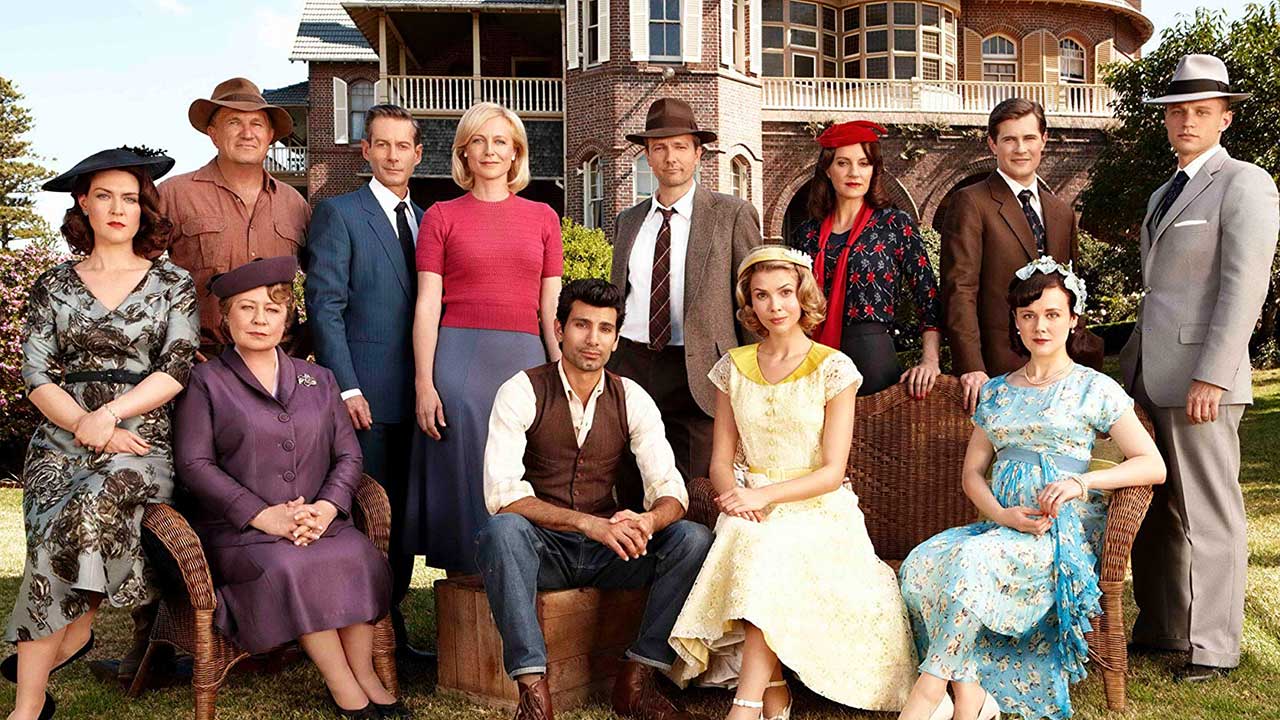 Created by the man behind Packed to the Rafters, Bevan Lee, the premise of A Place to Call Home starts as follows: In 1953, Sarah Adams (Marta Dusseldorp) returns home to Australia after spending 20 years in Europe. On her journey back to Oz, working as a nurse for ocean liner passage, she meets the wealthy Bligh family, by taking care of the family matriarch, Elizabeth (Noni Hazlehurst) and it's that encounter that changes everyone's lives.
The series goes on to explore not only Sarah finding her home in the town of Inverness, but healing from her traumatic past. Other themes throughout the show's run include Anti- Semitism and religious intolerance, public vs personal image, family disfunction, class divide, 1950s homosexuality, second chances, and above all, love and the meaning of home.
While A Place to Call Home is impacted by 1950s events, the show really is a character driven narrative. I've said it on Twitter and I will say it here, Marta's character Sarah is one of the most complex characters I've ever seen on screen (Marta even retweeted me, I was so excited). Sarah Adams is Jewish by faith, (converting to marry her now deceased husband, Dr Rene Nordmann), defended the left in the Spanish Civil War, was a Nazi resistance worker, and is a Holocaust survivor. (Author's note: I learned more about the Jewish faith and practices from this show than any class ever could offer.)
As for the Bligh family: Widower George Bligh (Brett Climo) is the owner of the estate Ash Park, although his Mother, Elizabeth is the real head of the family. George's wife, Elaine, was a civilian war victim, passing away while their children, James (David Berry) and Anna (Abby Earl) were very young. In the first episode, James is newly married to his English bride, Olivia (Arianwen Parkes-Lockwood). Anna on the other hand is 20 at the show's beginning with a long time crush on her childhood friend, Gino (Aldo Mignone), son of Italian immigrants.
Rounding out the cast is essential town busybody Doris Collins (Deborah Kennedy), family friend Dr. Jack Duncan (Craig Hall), family black sheep, sister/ daughter Carolyn Bligh (Sara Wiseman), rugged farmer Roy Briggs (Frankie J Holden), George's sister-in law Reginia Standish (Jenni Baird) and starting in season 3, Dr. Henry Fox (Tim Draxl).
Overall, if Douglas Sirk created a TV show, and was allowed to outwardly explore the darkness within the glossy 1950s facade, this is the TV show you'd end up; only this show is even better. A Place to Call Home has been compared to Mad Men, Downton Abbey, and even Dynasty, but I think it's got a style all its own, with a tremendous 6 year run covering the time span of 1953- to New Year's Day 1960.
Some fans claim the time jump to 1958 in season 5 weakened the show's narrative, but I personally declare it gives the show more intrigue, of filling in the missing 4 years. Another critcism I have heard was David Berry's limited availability in seasons 5 and 6, but compared to other shows I've seen, the writers handled it tremendously well. I have the upmost respect for David Berry as James still had an impact on the plot, and the fact he appeared on screen proved he didn't cut and run the minute a fame offering role in Outlander was offered.
The bottom line is if you've never seen the show I highly recommend it. It's one of the best family saga tv shows you've never seen, and it reminds us all just who and what the real meaning of home is.
This is an entry for the Home Sweet Home Blogathon hosted by Reelweegiemidget and Taking up Room ! Be sure to check out other entries! !