So a lot of you who do read my blog might know that I love William Holden- but what you may not know is how hesitant I initially was to watch Network. At first I said- "No Way"- I don't wanna watch a movie where Bill is "Old"; I'm not a big fan of Faye Dunaway, and I'm not really into movies from the 70s because they are so different from the ones I do like from the 30s 40s and 50s.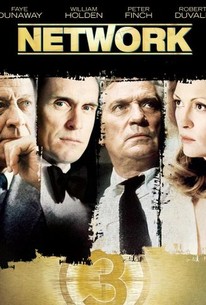 However- being in the film blogging community and following the TCMParty on twitter, I started to change my tune. I read a wonderful post that my friend Ginnie wrote up on her blog and I just started hearing these wonderful sentiments from, well everyone about the movie itself. So finally I cracked and said, "Well- William Holden is in this movie and it is iconic– I'll just watch it for credit and the fact of being able to say- 'Yes, I've seen that one." "
Getting to the part of me actually viewing the movie- When watching it- I had no idea of how amazing the plot, characters and iconic catchphrase of "I'm as Mad as Hell and I'm not gonna take this anymore" could be- I was so in awe of everything- and now I get it- I get it why Network is just such a fun movie to watch.
To me the only thing that dates Network is the technology  and the physical looks of the actors who are a part of the picture. Everything else is just as accurate today as it was back then. Especially for the "Mad as Hell statement"- I understand why Howard Beale (Peter Finch) isn't gonna take it anymore- as who should?
Yes- his Mad as Hell spiel starts off as a statement to express why he's mad at the station and his situation- but that's not really the focus-  Beale then shifts his statement to why he's just Mad! Mad as Hell! – and he shouldn't have to put up with this- and as a matter of fact, either should you!
I think what makes this statement iconic is that no one had ever taken this risk of verbally expressing such strong feelings before in a film. I think maybe films such as Rebel Without a Cause (1955) and The Graduate (1967) were some of the first films to express angst or similar feeling in terms of actions, but it was all very symbolic and reading between the lines- whereas in this film the angst and anger, annoyance even in this statement is Bold and direct in terms of understanding.
Take a look at Howard Beale's speech below
It just gets more and more accurate every time I watch it. And- the film in general gets funnier every time as well.
In short- I watched for Bill Holden , but I stayed for the funniness, accuracy, and overall just interesting and deeply layered plotline of the film.
For my own blogathon, I couldn't think of any other way to wrap it up on! Be sure to check out other posts as they trickle in- and remember- sometimes It's OK to be MAD AS HELL!!
THANKS SO MUCH EVERYONE FOR WRITING, READING AND PARTICIPATING!!!! See you round for the next one, soon I hope!!!